I am a huge fan of theme park simulations and if you are, too, you should check out Planet Coaster. Why you ask? Well, if you played Roller Coaster Tycoon you won't be disappointed. Theme park simulations are had to find these days, so I kept myself busy with Wildlife Park 2 (which is a lot better than Wildlife Park 3 in my opinion) but the graphics are a little rough, since the game is ancient. I was looking for something new and then there was Planet Coaster.
The game is currently available on steam and has 5 expansions available so far (I didn't get those though). The community is gigantic with thousands of players all across the globe.
First time players get a nice little tutorial, explaining everything from placing paths to building fascinating roller coasters. As always you need to do a little marketing to get your park the visitors you need and you need to have a close eye on your employees such as cleaning personnel and mechanics.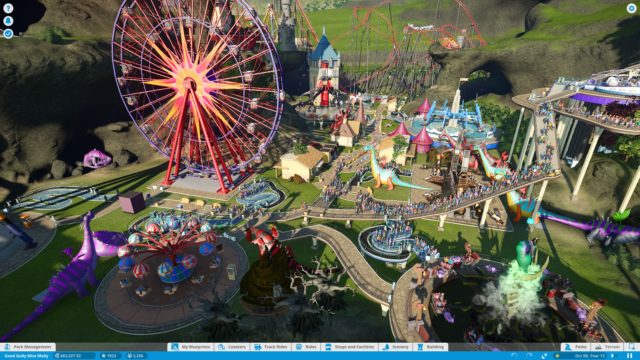 There's a load of missions to play ranking from super easy to ridiculously difficult and , my personal favourite, a sand box mode.
The sand box mode is just the best: build the park of your dreams
completely for free
. You want to build the world's craziest and fastest roller coaster? Great! Do it in sand box mode! Loops and helices and faster than the speed of light (not really, though). Run the test mode and once you're done see people get on it and
take a ride yourself
! (First person, thank goodness no VR though, that would make me sick). Of course only the toughest of all people will take that ride to hell.
Apart from roller coasters there's a bunch of other rides available, that can be coloured individually and you can even add sound effects. If you're into landscaping, build a fancy place for people to eat, all fairytale style!
The game might come at a kinda high price but I have enjoyed it for several hours and do not regret buying it at all.